Automatic Discounts with many different vendors
We have a large number of vendors and want to use your app to automatically apply the discount to the order.
For example vendor A has a 15% discount Vendor B has a 10% discount and the customer adds a product from vendor A and Vendor B will your app recognize the two different codes?
I was also wondering when we are setting up our discount codes on Shopify's discount code page for the Applies to section to we keep entire order clicked or do we select specific collections or specific products?
Also for Customer eligibility do we keep it at EVERYONE and the usage limits to we set a number of times the code can be used or limit it to one use per customer. Or does your App supersed the discount code permissions?
---
Our app respects the discount code permissions.
What the app does is to trigger/fire the application of the discount automatically, based on some rules/restrictions.
There is a restriction based on the "Vendor"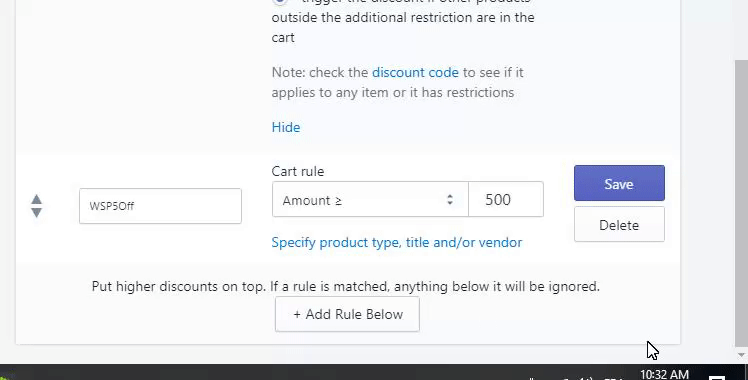 That being said, you can have 2 rules:
10% discount if products in the cart are from Vendor A (you can set it to "only from vendor A" or to "at least 1 product from Vendor A")
15 discount if products in the cart are from Vendor B
You can select inside the discount code restrictions to make this discount specific to some collections or some products, yes. Because otherwise the discount will apply to the entire order. Like I said above, our app triggers/fires the discount but doesn't know on which collections/products it applies, it only applies it, and Shopify knows to which products/collections it should apply.
---