How to Upsell a bigger, better product on Shopify?
Have you ever purchased from Apple or Godaddy? There is a few chances you ended up buying what you added to cart at first or only that.
Upselling is when you convince customers to buy something extra or more expensive. For example, to buy a bigger, better, faster computer.
All is a matter of context
The more familiar the upsell is, the bigger the chance of making a sale. You have to put yourself in the shoes of your customer and ask yourself: "In this context, on this page or with this product already in the shopping cart, what else the customers would need?"
By the way, a research from Predictive Intent indicates that upselling performs 20 times better than cross-selling on product pages. We believe Predictive Intent is wrong, like their research paper who falls on a 404, and that's why we wrote a great post about how & what to cross-sell effectively to drive more sales.
Upselling a bigger, better TV Screen
Let's dig into a concrete example using the Ultimate Upsell App. Let's say I'm selling TV screens. A great upsell would be to suggest a bigger TV screen, a flat screen or a 3D screen, for example.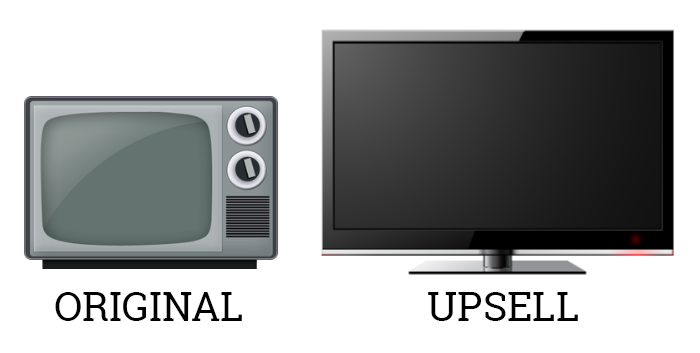 Now in my Shopify store, what I can do to make this upsell happen is:
1. Install the Ultimate Upsell app.
2. Create a new upsell.
3. Choose to upsell products individually in the Upsell type (A la carte, or Add-on products).
4. What → Select the Flat TV screen as the product to upsell.

5. When → Select to trigger the upsell on the Old TV Screen product page.

6. Where → Select the location of the upsell: in theme, notification or popup.

You can preview different locations. Once you're satisfied, click Save and close the window.
7. You can add a title to the upsell offer to make it clearer.

8. Select "Published" in the dropdown menu and click the Checkmark icon to Save the Upsell.

9. Sit back, relax and check your numbers grow!

That's it. You are ready to upsell customers with a bigger, better TV screen when they visit the old TV screen product page!
👉 Try Ultimate Upsell for free on your Shopify store 👌