Upsell on the Product page
With Ultimate Upsell, you can upsell customers on the Product page: directly inside the store theme, in a popup or via a notification.
Start upselling now
2. Create an upsell
3. Choose to upsell products individually in the Upsell type (A la Carte).
4. What → Select the products to upsell. Now it's the biker cap.
5. Where → Select the location of the upsell: in theme, notification or popup. Click the SETUP link.
You can preview different locations. Once you're satisfied, click Save and close the window.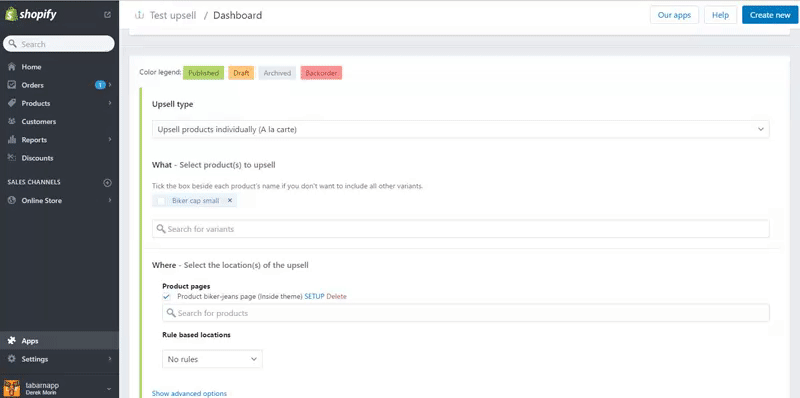 6. You can add a title to the upsell offer like "Only 1 cap left!". Then Select "Published" in the dropdown menu and click the Checkmark icon to Save the Upsell.
7. Sit back, relax and check your numbers grow!
Upsell in your theme
Automatically insert upsells in the Product page
You can automatically insert the products to upsell in your store theme with our Selector toolbar. Here are a few locations you can upsell products in your Product page. Of course, depending on the content you currently have on your product page, you may have less or more available upsell locations.
Below the Add to Cart button
---
---
Below the product description
---
Below the main product image
---
At the bottom of the Product page
---
Since the Selector toolbar can't be perfect, you can always go with the manual way, described below.
Manually insert upsells in the Product page
Since the Selector toolbar has its limit, we also provide a snippet of code you can insert. Each snippet has a class called tabarnapp_upsell, which mean you can style it with CSS in your style.scss file. You'll then be able to change the size, color, font and more!
To insert the upsell in the Cart page manually, you'll have to edit the file called product.liquid. Here's the documentation related to the product.liquid template.
To add the upsells in the cart page, simply paste in product.liquid your snippet of code that you can find inside the main admin page of the Ultimate Upsell app. That looks like this:
<div class="tabarnapp_upsell" data-id="bYjtPo2LFfrBx8qPE"></div> (note: the data-id changes for each store, but not the class).
Still on the Product page, you can upsell customers with products showing up in a popup (modal window). You can choose from 4 different types of popup animations.
---
Upsell in a notification
You can also suggest upsells via notification. It's similar to a popup, yet less intrusive. You can choose from 5 different styles of notification.